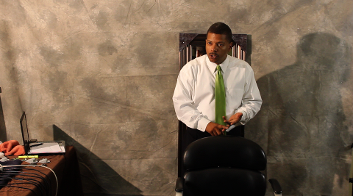 Lu is a master barber, educator, motivational speaker, and celebrity barber. Lu's mission is to positively influence students, professional barbers and cosmetologists through his inspiration, motivated by his passion, generated by his vision.
The mission of Barber Boot Camp is not just to teach Barbers and Cosmetologists how to cut hair – almost all barbers can do that. Barber Boot Camp helps new and experienced barbers and stylists achieve break troughs and grow personally and professionally. Lu's purpose for creating Barber Boot Camp is: To advise Students, Professional Barbers and Cosmetologists on the best ways to establish, market, manage, and grow their business. Lu's desire is to help barbers develop the entrepreneurial and leadership spirit, make and keep more of their income, and achieve their goals while helping others to do the same.
Lu is the barber to celebrities, entertainers, and business leaders across the country. Lu provides professional barbering services in the Los Angeles area. He also provides professional barbering services at premiere on-site locations such as:
Video/Photo Shoots
On Set
Charity events
Beauty & Barber Colleges across the country
And much more…
To those who want to get on the path of becoming a master barber, a celebrity barber, or have a desire to truly grow their barber business, Lu is a professional, educator, mentor and coach to barber & Cosmetology professionals.
He gained considerable experience and an outstanding reputation in this capacity. While serving in numerous national and regional forums for the professional barbering industry. Lu has trained and instructed in some of the top shows and venues in the country including:
Trainer, Educator & Platform Barber for Wahl Clipper Company - Bronner Bros. Hair Show in Atlanta, Ga.
Trainer, Educator & Platform Barber IBS (International Beauty Show) Atlanta & NYC
Professional Platform Barber NC Master Barber Association Hair Show Charlotte, NC
Trainer, Educator & Platform Barber 2010 Bronner Bros. Hair Show in Atlanta, Ga.
In addition to his many lectures, appearances and training activities at many barber and beauty schools across the country, Lu often does radio & TV panels on barbering and hair related topics. His recent interview on TALK HAIR LIVE w/ Shirlena Allen and Chris Vaughn